Catering definitely needs flavoured chips; here's why….
Pomme Frites, fries or the Great British chip, I'm not sure I've ever met anyone who doesn't like them….
Whether cooked in peanut oil, vegetable oil or triple cooked in good old beef dripping down the local gastro pub or chippy and even the smell of an oven chip sizzling away on a baking tray, there's something alluring about the smell, the feel and the golden crispness that gives way to fluffy, steaming potato.
Chips are the 7-day replacement for the Sunday roast potato, which is the perfect thing to go with so many other flavours in a roast, so why not take the same approach with chips?
Every time I smell freshly cooked chips, drenched in salt and vinegar, I am instantly transported to cold winter nights, walking along with a bag of steaming chips, the corner ripped out of the bag, so I could get access to slippery, red hot, salty, vinegary goodies, staying hot as I worked my way through the grease-soaked paper, we didn't do cones or boxes in the north, where I grew up…
Now, you may be a purist when it comes to flavour just dousing in classic salt and malt vinegar, but I'm here to tell you that the old reliable chip has so much more to offer; it's almost the perfect vehicle, so the widest array of flavours, from Mexican to Japanese to the late-night student favourite of Cheesy chips.
Gone are the days of being the "plus one" to fish and chips, pie and chips etc..
The hospitality industry is always innovating, and now there are even dedicated outlets that serve only flavoured fries. Are you missing a trick?
And who doesn't want to slide through the drive-through now and again after smelling fries from, you know who, the golden arches….
By being a little more adventurous with chips, you can add value to a simple ingredient, you can add extra items to your menu without any huge additional costs, often using up what's already in-house, but more importantly, elevating the humble chip with a bucket load of added flavour for your customers.
And you are only bound by your imagination; loads of easy recipes to play with, whether you go for chilli topped "dirty fries" or "Japanese seasoned fries" using flavours like Togarashi, Nori and Soy, to French style fries topped with Brie or Raclette, even grate some truffle on top. OK, maybe that was a bit too far, but I bet it would taste awesome!!!
You could go as simple as Parmesan, garlic and rosemary, it doesn't matter, you see, the possibilities are endless!!
I challenge you to find a flavour that doesn't go with a freshly fried golden stick of crispy fluffiness, I have yet to find one, and I have tried a lot!!
So, what are you waiting for, go forth and conquer the chip!!!!
Below is a selection of our team favourites out together and shot by us 🙂
SRIRACHA FRIES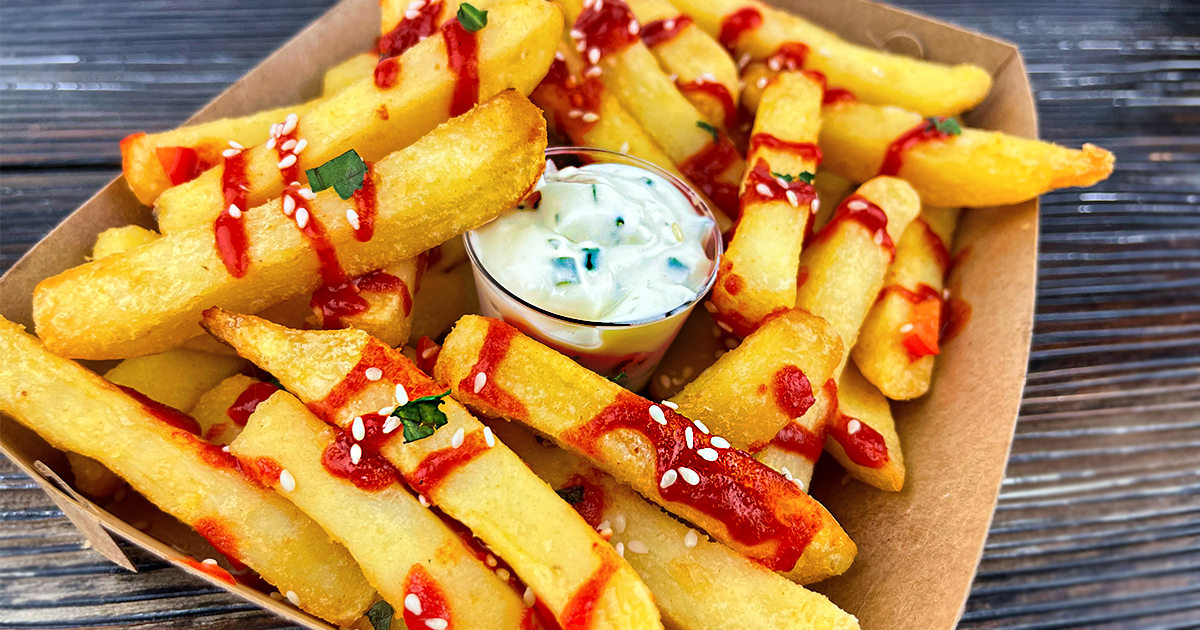 FETA & SUNDRIED TOMATO FRIES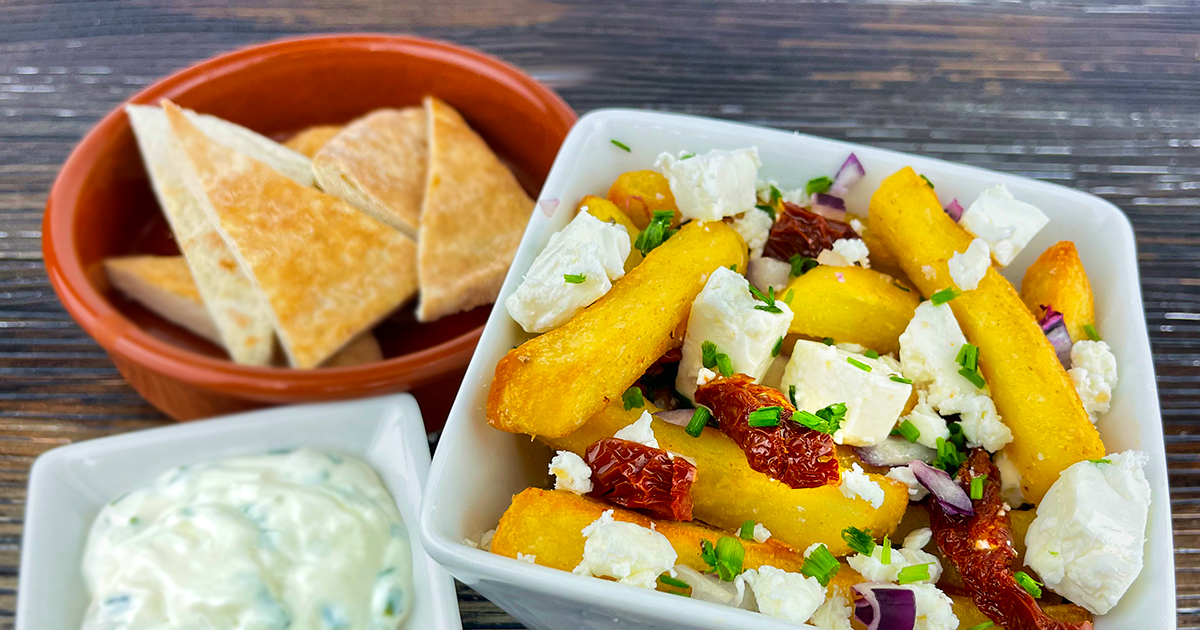 BBQ CHICKEN WITH RANCH COLESLAW FRIES
FAJITA FRIES
BUFFALO CHICKEN WITH SWEET POTATO FRIES