Trends in the food industry seem to move fast. One minute it's all about sourdough pizza; the next it's plant-based alternatives, poke bowls and bhorta (thanks Nigella).
Luckily, the UK tends to be around six-twelve months behind the US, which means we can be prepared for the next foodie phenomena if we look in the right places…
According to a mid-year food trend report by Grubhub, 2021 has seen particular foods soar in popularity – not to mention some exciting flavour combinations too!
Top-rated
The most popular meal during the first half of the year was brisket pho (+697%), alongside cheesesteak wraps (+694%), and thin-crust pepperoni pizza (+684%).
Side dishes that have grown in popularity include cajun fries, surging by +630%. Just behind is red beans and rice (+612%), corn chowder (+603), jalapeño bites (+465%), and biscuits and gravy (+364%) – we'll let you make your own mind up on that last one…
Mexican flavours have had a significant influence on some of the top foods, with things like birria tacos, chicharron tacos, and beef barbacoa all coming out on top. Essentially, they're slow-cooked beef or goat, topped with cheese and salsa inside a crunchy corn taco.
Never-heard-of-before
There are also some dishes on the report that many people most likely will never have heard of, like chocolate french silk pie (an oat biscuit crust – some people use oreo cookies – with a rich and creamy chocolate filling, topped with whipped cream and chocolate shavings), and the Nashville hot chicken sandwich (the secret's in the seasoning and the spicy sauce).
Trends
It seems there's also been quite the rise in comfort food in the US, with things like mac and cheese, cinnamon apple pie, and peanut butter sundaes trending highly. This isn't too dissimilar to the UK, which during the pandemic saw more people reaching for comforting treats… and with the uncertainty of winter, it looks likely to continue.
That said, for those comfort eating, there's another person striving to be healthier, fitter and stronger. Health is on everyone's radar at the moment, and this translates into the food they eat and purchase. Natural ingredients, immune-boosting superfoods, supplements and probiotics are all of key importance. Think poke bowls, grain bowls, smoothies, vitamin-filled drinks, acai bowls, and bright, colourful salads.
One trend we can't ignore is vegan and plant-based. Every year more and more people are switching up their diets, either making conscious decisions to eat fewer animal products or going full-on vegan. Vegan orders have risen by 17% in the US, plant-based burgers by 28%, and general vegetarian orders by 55%. You may think that the US is all Philly cheesesteaks and chicken and waffles, but people really are changing things up.
This year, the US has seen more people choose the vegan option of classic takeaway meals, with plant-based sausage wraps, spicy miso tonkatsu ramen, and Korean barbecue cauliflower wings all making the top 10. So if you don't have a vegan burger on your menu or haven't yet given fried cauliflower a go…what are you waiting for?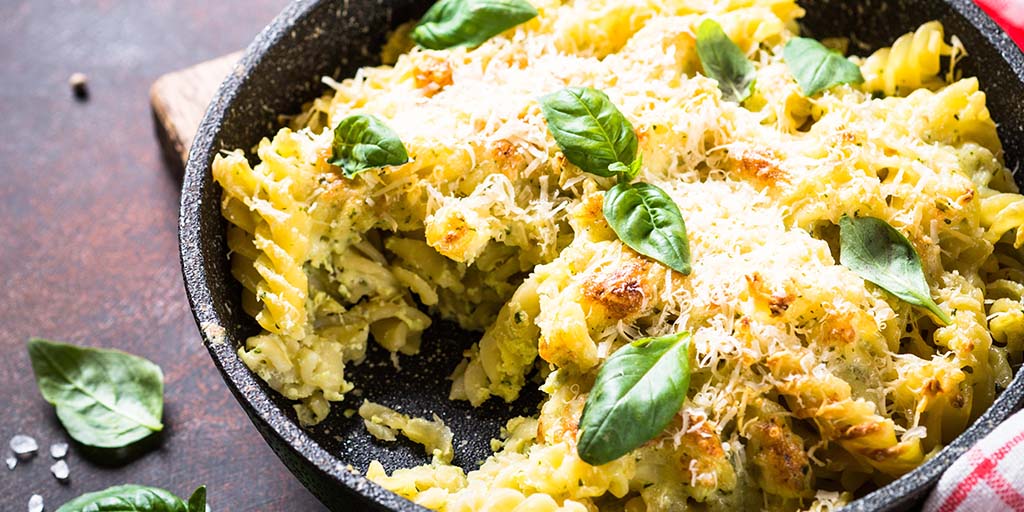 Flavour highlights
From the report, a few flavours particularly stand out, including cajun spices, peanut butter, truffle, hummus, and pumpkin or butternut squash, all of which you can easily incorporate into your menu and get experimental with, especially as we move into winter.
Think truffle fries; truffle, thyme and parmesan polenta fries; truffle cheeseburgers; butternut squash soup; vegan grain bowl with hummus and roasted butternut squash; peanut butter energy balls (perfect for on-the-go); peanut butter smoothies (keep it lean with banana, raw cocoa, dates and plant-based milk); Cajun chicken; spiced cajun tofu; cajun fries, and crushed new potatoes with cajun spice. Mexican, Asian and Vietnamese flavours all stand out too, and a Pho or Ramen are wonderfully warming on a cold evening, not to mention simple and easy to adapt for vegans and vegetarians.
It's certainly been a strange year for the food industry, not to mention unpredictable, but one thing's for sure, some of the strange and wonderful food combinations will be making their way to the UK very soon. Get ahead and start getting creative with these flavours now!