From British 'caffs' with a modern flair to revived American diners and transformed Australian milk bars – we're exploring it all here.
Cafés, Diners, Luncheonettes, and Milk Bars all run on a similar business model; they serve quality food at a reasonable price in a relaxed setting. Often turnover is quick and the menus fairly small, and there's a hefty hit of nostalgia in many dishes. From the classic cafés to the more upmarket diners, let's look at the trends driving these popular high street eateries.
Cafés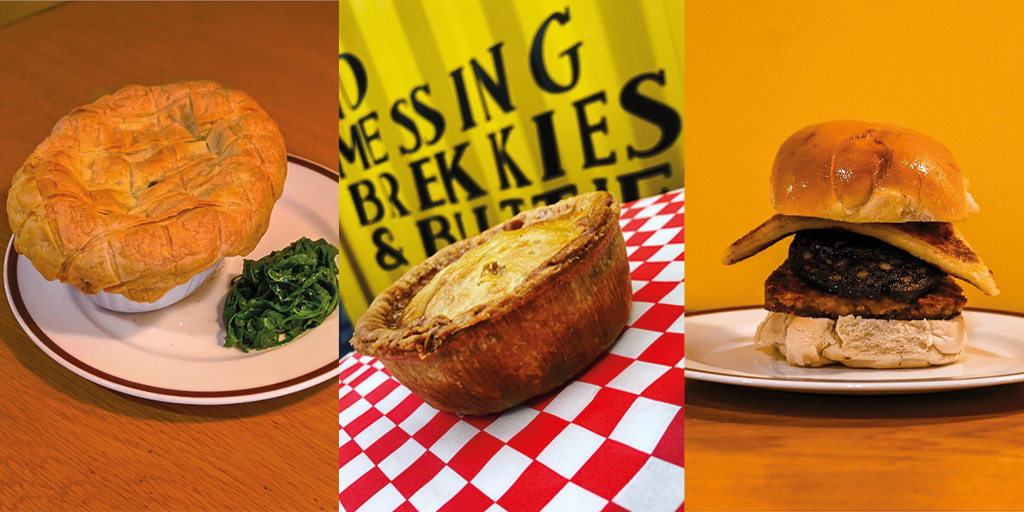 Greasy spoons used to be on every high street corner, but social media has forced cafés to be more hip in their offering, with food designed to look good on the 'gram. However, a handful of venues have been fighting to bring back the traditional British caff, though with a slight twist…
Lucky Strike Bristol
Lucky Strike opened its doors only a few months ago (March 2023), in Bedminster, Bristol. Described as a modern take on the British caff, the venue serves traditional English comfort foods such as Shepherd's pie, sausage baps and soup, with some less conventional dishes such as chicken hearts with trotter sauce and salted crisps. Unlike conventional caffs, Lucky Strike also serves wine and cocktails, too, and the presentation is rather better than a 'caff' as well.
Inspiration: Homemade square sausage, black pudding & tattie scone sandwich; Vegan Shepherd's Pie; Kelvin's ham, vegetable & butcher's sauce.
Norman's London
Norman's has built up quite the cult following and is often known to have customers queuing down the street. The café serves up refined versions of greasy spoon classics, with baps, pies, sausage rolls, fry-ups, fish 'n' chips, and nostalgic school dinner puddings. You may even see combinations like whipped salmon roe served with Frazzles crisps!
Inspiration: Full English; Rice pudding and jam; Welsh rarebit; Fish 'n' chips with tartar sauce; Guinness bread with custard.
Caff Manchester
Manchester's Caff opened at the end of 2022, and it's been quite the hit with Mancunians, taking a 'proper northern' approach to traditional 'no nonsense' grub, from hot and cold butties to soup, pastries, cakes and convenient on-the-go snacks. And there's even a roast dinner pie!
Inspiration: Curried cauliflower pie; Roast dinner pie with roast potatoes, cauliflower, carrot, broccoli & gravy; Sausage roll.
Diners & Luncheonettes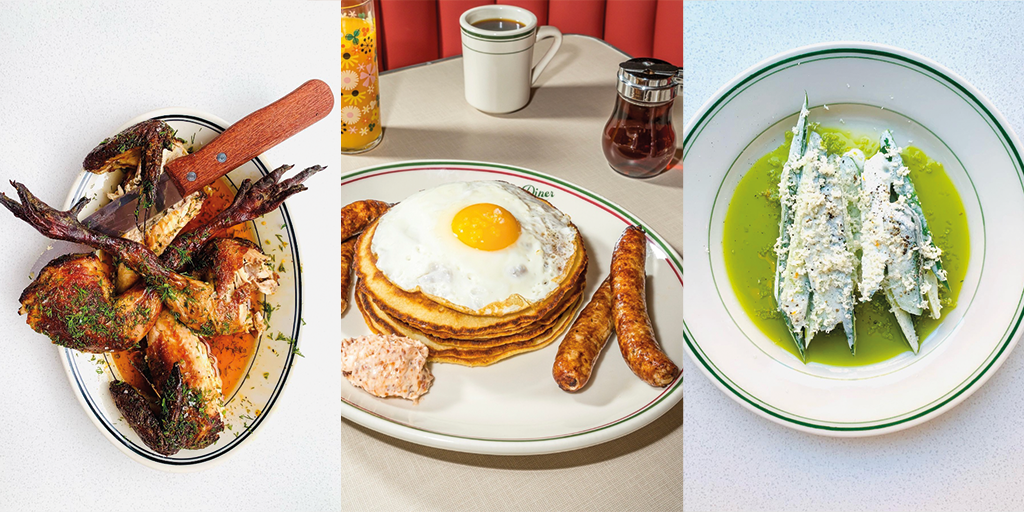 Over the last few years, there has been a resurgence in the number of luncheonettes and diners, each with their own unique take on the traditional set-up, allowing them to stay relevant with today's crowd. Watch out, these iconic American eateries are back…
Soho Diner NYC
Soho Diner is nestled inside the great Soho Grand Hotel (NYC, USA). The restaurant took residency in 2020, taking inspiration from the traditional diners that have been in the area over the years, with red leather booth seating and retro fixtures in every corner. The menu showcases a range of classic diner dishes such as burgers and fries, chicken wings, waffles and pancakes. In true diner style, this place is open from breakfast until 12 am, so it's perfect for late-night snacks!
Inspiration: Fried chicken and waffles; Spaghetti and meatballs; Breakfast pancakes.
Agi's Counter NYC
Agi's Counter has certainly made an impression in NYC, flipping the concept of American counter-style dining on its head, and instead, showcasing Eastern European-inspired fare. The menu boasts comforting classics, using more obscure cuts like ox-tongue, pigeon and roasted chicken leg – with foot intact. Stop in here for brunch, lunch and dinner too.
Inspiration: McAgi hash with salmon roe and lemon; Sliced cucumber in Meyer lemon 'ranch' with grated horseradish and dill oil; Bo Bo chicken paprikás, brined in buttermilk with spices.
Modern-Day Milk Bar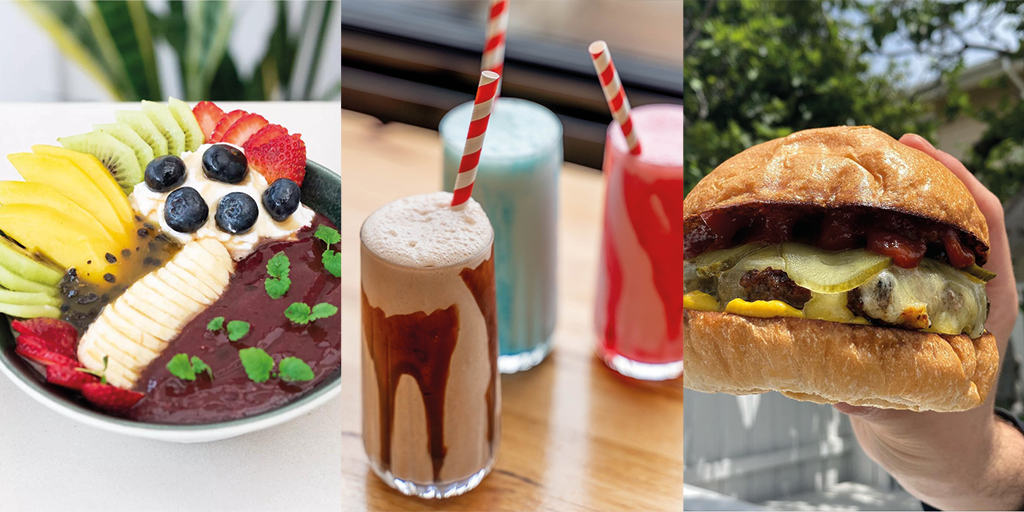 Milk bars are a popular affair in Australia. There aren't so many left now, with restaurants, and diners taking the customers, so it's been a case of 'adapt to survive', enhancing their offering with a little more than just milkshakes and fizzy drinks.
Jack The Milkman Melbourne
What was once an old milk bar is now home to the modernised 'Milkman'. Much of the exterior has been kept to keep its traditional charm, but the menu now comprises some Aussie breakfast classics as well as fresh juices and of course, milkshakes!
Inspiration: Buttermilk chicken burger with chips; Bacon & egg bap; Poached eggs with smashed avo and beetroot purée; Health juices.
Jerry's Milk Bar Melbourne
Jerry's Milk Bar was voted in the top 50 best cafès in Melbourne, in 2022, thanks to its delicious classics like pancakes, burgers, smoothie bowls and salads. It's a favourite with local residents, and we can see why…
Inspiration: Pancakes with fresh berries and coconut; Scamorza toastie; American style cheeseburger.
Tyler's Milk Bar Melbourne
Tyler's is run by sister duo, Sam and Alli Fisher. It's became a community hub, with a café and small retail store, with locally-owned, small producer products. It has a brilliant sustainable ethos with a good mix of healthy food and indulgent dishes – we're seeing a lot of UK deli's work on a similar ethos; it's never a bad idea stocking a few local goodies.
Inspiration: Baked potato hash, grilled halloumi, fried egg, house-pickled jalepeños, spring onion and smoky mayo; Toasted sourdough, poached chicken, dill, Swiss cheese and watercress; Shaved ham, pineapple-chilli jam, tasty cheese and tomato; Butter and cannellini beans, pickled fennel, cabbage, carrot, roasted courgette, capers, red onion and mint, roasted buckwheat and feta salad.
Most of the dishes we've seen in this Cafés, Diners and Luncheonettes trend article are a good mix of indulgent and healthy, with a side of nostalgia too. Many of them are easy to recreate – and many of them you're probably already serving. From baps to burger buns, breakfast sides, battered cod and chicken steaks, check out our Fairway Assured range to help refresh your menu with some popular and nostalgic dishes.