As the weather starts to turn colder, there are several calendar events that the hospitality venues can capitalise on, not just to make some extra revenue but create excitement for customers too. From Halloween to Guy Fawkes Night to Christmas, whether you're a catering business, school, cafe, restaurant or bar, events create a point of difference and also give you a chance to reach new customers.
Love it or hate it, Halloween is a great way to host a memorable occasion and boost your profits. From spooky-themed cocktails and food, quiz nights, horror-themed fancy dress, and pumpkin carving, there is a lot you can do to make Halloween fun for everyone. Of course, this year Halloween is on a Monday, which isn't the best day for hospitality but you could always host something on the weekend too.
Decorations
Dress the venue for the occasion with various 'spooky' decorations. You can go as big or small as you like, with cobwebs in the corners, pumpkins on the bar, spiders hanging from the ceiling, Halloween tablecloths and tall candles. Take it even further with skeletons or ghosts that pop out as people walk past.
Make it an event
Depending on the whether you cater more for families or adults, will greatly influence the type of event you can host. If you attract a lot of children, why not put on a pumpkin painting event, a 'spooky afternoon tea', with Halloween-inspired treats, create a Halloween games room – if you have the space – or simply offer pre-trick or treating face-painting. If it's more of an adult occasion, you could create a Halloween-themed food and or drink menu, host a cocktail-making night, or pumpkin carving. And don't forget the fancy dress (for staff and customers) – there could even be a prize for the best-dressed!
Create a Halloween cocktail menu
It's quite simple to put a twist on some cocktail classic drinks, with a few simple tricks. Grenadine is great for adding a deep red, blood-like feel to drinks, and a lychee on a stick, with an olive inside and a little red food colouring, looks scarily like an eyeball. Top drinks with crushed-up oreo, to look like gravel, and a few plastic spiders can be quite effective too. If you have some dry ice or a smoke machine, this can also be very theatrical.
Create a Halloween menu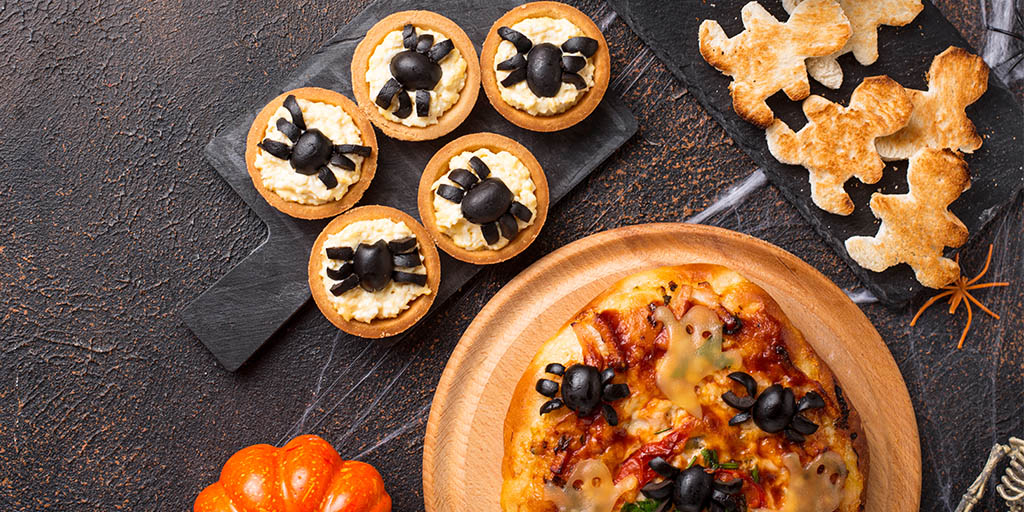 It may not be all that spooky but a little creativity goes a long way. Use thick sauces to create the shape of a cobweb on a plate or cream to top a steaming bowl of soup. Make deep red sauces out of natural colourings like beetroot, red pepper or tomato, to give the effect of blood. Shape your food like an eyeball. Think burrata with an exploding middle. Even simple things like making spiders out of olives on pizzas, topping pies with pastry shaped like a pumpkin or ghost, and making a bread bowl for your camembert that's shaped like a spider.
Music
Don't forget about the music! Halloween music all night can get a little too much but throwing a few classics on your playlist, like the Monster Mash and Thriller is a great way to get the crowd going.
Shout about your event
As always, make sure people know that you're hosting an event. Shout about it on social media and create an events page on your website. And don't forget to make sure all your staff know about the event, so they can let your local customers know.
Halloween is a great way to liven up your venue, attract new customers and boost your profits. With a little bit of creativity, you can make it an enjoyable and successful event for everyone.