Join us as we explore innovative dishes, ingredients, and techniques to elevate your breakfast menu and entice your customers.
Even though aspects of breakfast habits might have seen changes, the underlying reasons for customers' choices persist and span health, indulgence, convenience, and nutrition so it's worth ensuring that your offerings cater to these needs.
Let's take a look at the breakfast trends and inspiration.
Classic Breakfasts with a Twist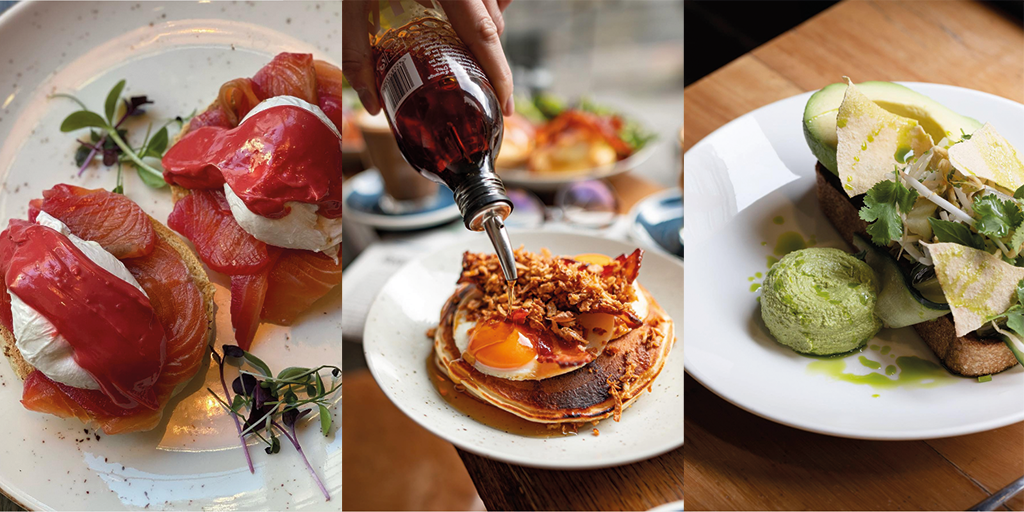 It's still about eggs Benedict, avocado on toast, pancakes and scrambled eggs, but chefs are taking our familiar, much-loved breakfast and putting a twist on them, often with flavours from different cuisines, like sriracha, N'duja, beetroot and more.
1) English Muffins Upgraded
Eggs Benedict, Eggs Royale, Eggs Florentine, it's perhaps one of the most popular and favoured breakfast dishes that's been around for years. Well, it's still big business and enjoying a new wave of innovations. Some chefs are adding subtle flavours, like flavouring the hollandaise with sriracha or beetroot. Others are using fried chicken and air-cured beef in place of ham, salmon or spinach.
Inspiration: Eggs royale with homemade beet hollandaise sauce, Il Pampero, UK. Yangnyeom fried chicken Benedict with Korean fried chicken, garlic gochujang glaze, poached eggs, lime hollandaise and sriracha mayo, Bake Street, London. Chicken Rillette benedict with crispy chicken skin, orange and saffron bernaise, with poached eggs, Hardware Societe, France.
2) Avocado Toast
A millennial favourite a few years ago, avocado and toast took Instagram by storm with its beautiful photogenic avo flowers. But since then, this classic has been refreshed with additions like vegetable crisps, Dukkah and spices, whipped feta and more. Avocado on toast is one dish you need on your menu, even if you serve it with crumbled feta, a sweet yet spicy jam and a poached egg.
Inspiration: Avocado on a pretzel with whipped ricotta, broad beans, lime dressing and seed crackers, Higher Ground, Australia. Marinated avocado on sourdough toast, whipped green curry tofu, sweet and sour cucumber, peanut and bean sprout salad and thai basil, Proud Mary Coffee, Australia.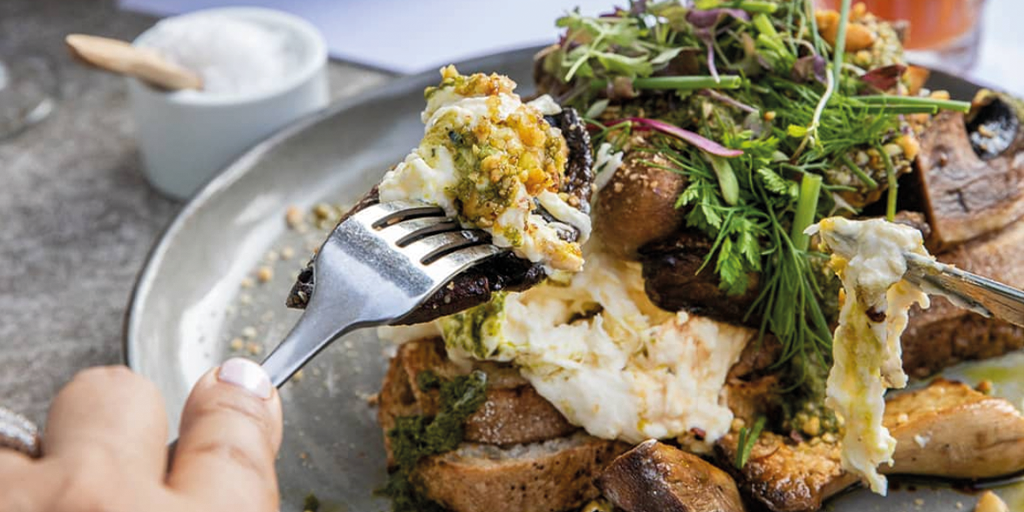 3) On Toast
Beyond avocado, 'on toast', is still a big thing. Anything goes from ricotta toast to french toast, and even vegetables on toast – especially if it goes with a poached egg.
Inspiration: Thick-cut brioche, seasonal berry compote and ricotta, Sunday in Brooklyn, NYC. Mushroom toasted with salsa verde, stracciatella, harissa, truffle butter, vincotto broccolini and hazelnuts, The Kettle Black, Australia.
4) Pancakes
Pancakes or french toast are generally on the menu as a sweet breakfast item – although we're not saying no to a sweet & salty combination. Stacked high and covered in toppings like chocolate, maple syrup, fruit, yoghurt, and maybe a little bacon on the side too.
Inspiration: Pancakes with bacon, fried eggs and maple syrup, 5 Pailles, Paris. Zambian Vitumbua pancakes with a berry compote, ginger and bissap syrup, topped with a light cloud of Moringa cream, Stork, London.
5) Packed Sandwiches
A sandwich is great at any time of the day, and at breakfast, it adds the convenience that it can be eaten on the go (mostly). The usual culprits of eggs, bacon, sausage patties and cheese still reign, but it's the bread that chefs are experimenting with, using muffins, Challah French toast, Hot Cross Buns and pancakes.
Inspiration: Egg and corned beef hash sando, Panadera Bakery, London. Whipped peanut butter, bananas and cherry curd, between Challah French toast, with caramelised cinnamon nut sugar, Bake Street, London.
6) Bring on the Eggs
It's hard to talk about breakfast without including a section on eggs. Poached, fried, scrambled, boiled or made into an omelette, eggs are key in the breakfast occasion. They work with many cuisines but especially with Indian influences, like rotis or curry spices. Continuing the theme of mouth-tickling heat, they also go very well with chorizo and nduja, for a fiery kick.
Inspiration: Handmade roti, poached egg, sweet seeni sambol, coconut sambol, and apricot chutney, Lankan Tucker, London. Chilli scrambled eggs with Fraser Island crab, Kettle Black Cafe, Australia.
Most eggs seem to be poached or scrambled, in keeping with the theme of 'health' at breakfast. But sometimes, people do want to go a little bit indulgent: Que crispy eggs!
Inspiration: Crispy poached eggs with a side of smashed avo, and chilli jam, Lux Foundry, Australia. Crispy eggs with smoked ham hock, sweet potato puree, candied walnuts, mesclun salad, honey mustard and gouda cheese on sourdough, Via Porta, Australia.
7) A Side of Fish
Buttery scrambled eggs or hollandaise with perfectly poached eggs is smoked salmon's best friend on the breakfast table. Whether it's served on toast, a potato rosti or a muffin, it's a necessary combo on any breakfast menu.
Inspiration: Smoked fish rosti with seasonal greens and poached eggs, Pigeon Hole Cafe, Australia. Rosti smoked salmon sandwich, @whatiateforbreakfast, UK.
Next Level Breakfasts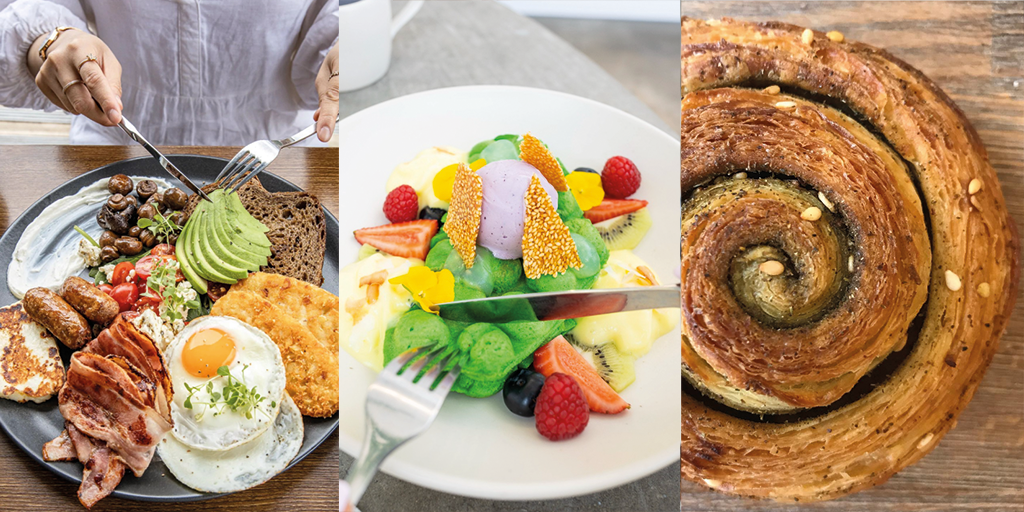 Next, we're looking at breakfasts taken to new gastronomic heights. The types that require a long walk after and are eaten more as a brunch (which is now anytime between 10am and 3pm). These aren't quick, on-the-go breakfast fuel; they are an occasion, a treat, taking breakfast staples to new heights.
1) Go Big or Go Home
There aren't many special ingredients in these breakfasts, they're simply just big, very big. They say breakfast is the most important meal of the day, but with these huge plates, it could be the only meal of the day! If you run a sports pub, these are just the dishes hungry, beer-drinking supporters will love.
Inspiration: Mega breakfast plate with mushrooms, halloumi, sausages, bacon, avocado, hashbrown and eggs, Black Elk Espresso, London. Hash brown, baked beans, chorizo, bacon, poached eggs, tomato, mushrooms and sourdough, Goldfish Bowl Bakery, Australia.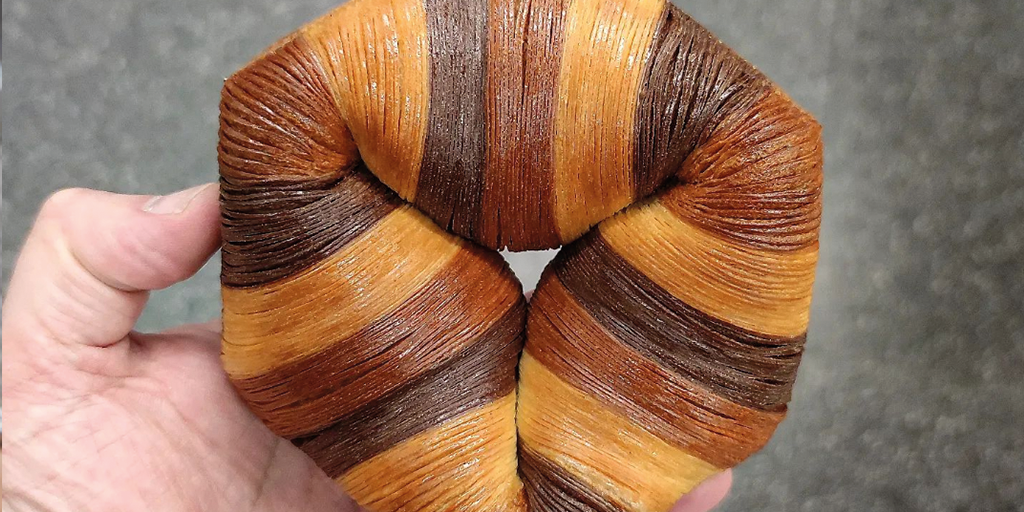 2) Beyond Bread
Move over sourdough, there's a new bread in town. While these aren't 'big' breakfasts, they do fit the 'next level category', due to the creativity. Think hypercomplex geometric pastries with dessert-like fillings and sweet and savoury breads from the Middle East.
Inspiration: Three chocolate croissants, @yohanferrant, Spain. Trio of freshly baked Jurusalem style morning breads, Coal Office, London.
3) Global Influence
We've already seen some spices and ingredients hitting the breakfast table, influenced by other cuisines, including Cantonese, Africa, Indian and Southeast Asian. Turkish eggs, dukkah, zaatar, cinnamon and cardamom are the new flavours gracing the table.
Inspiration: Pandan waffle, floating on a sea of banana coconut foam, Industry Beans, Australia. Crab and spinach wontons with ginger, black vinegar and hazelnut, Paper Bird, Australia. Zaatar roll, Mokonuts Bakery, France. Poached eggs, garlic yoghurt, chilli butter, Barboun, UK.
4) Taiwanese Influence
One of the latest cuisines influencing our breakfast dishes is Taiwanese. Breakfast foods in Taiwan can roughly be split into two categories: traditional and Western fusion. But it's the traditional dishes that have been making a stir worldwide, including fried bread, cakes, egg pancakes, steamed bread with eggs, rice balls and more.
Inspiration: Dan Bing – a Taiwanese breakfast egg crepe with pork floss, chilli and hoisin sauce, @ahongs_cooking. Fried bread, with a size of dòu Jiāng (soy milk), Yong He Eating House, Singapore.
Healthy Breakfasts and Plant-Based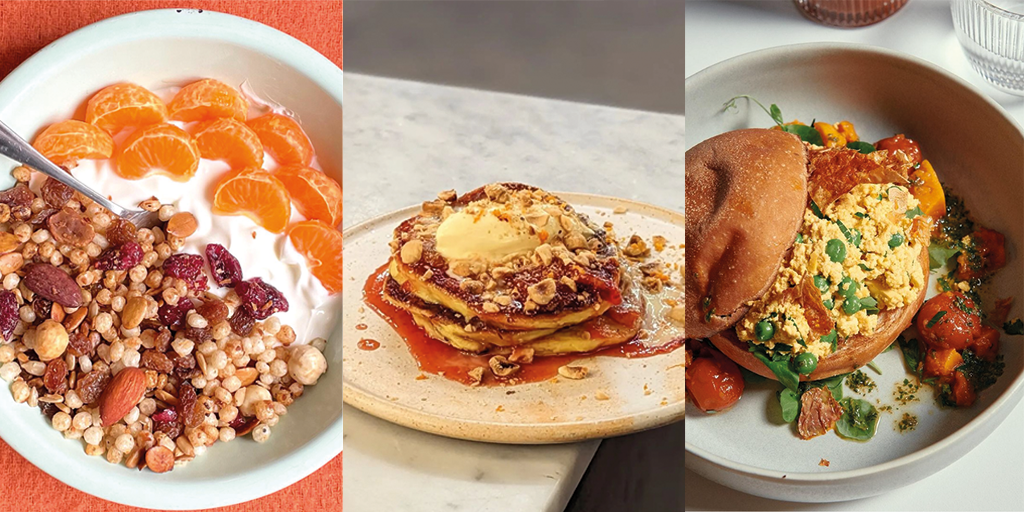 From the indulgent big breakfasts to mindful, nutritional breakfasts, in this section, we're looking at plant-based, keto, grains, nuts, seeds and more – you name it, there's a breakfast dish ready to cater for every wellness need.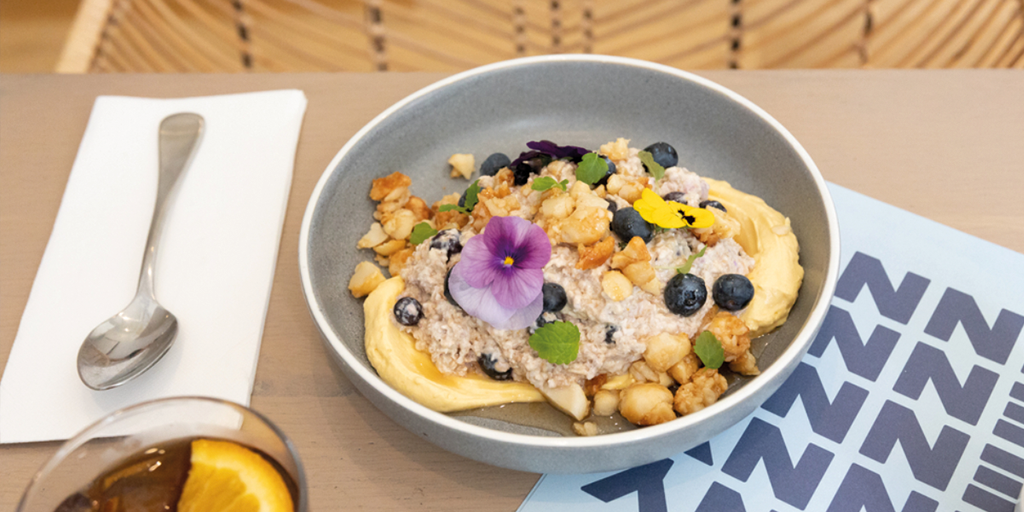 1) Cereal and Bircher Oats
When it comes to health, whole grains are still hard to beat. Overnight oats, porridge, granola and bircher pots are still popular and easy ways to start the day, but some chefs have started making their own cereal using a blend of grains and dried fruits to sit on top of creamy yoghurt and fresh fruit.
Inspiration: Granola made with puffed rice, toasted buckwheat, raisins, sunflower seeds, squash and golden flax seeds, almonds, hazelnuts, shredded coconut, cranberries, olive oil, cinnamon, cane sugar and a touch of salt, Boulangerie Chamelland, Paris. Bircher Muesli, rolled oats, almonds, pepitas, chia, blueberries, mango labne, and honey macadamia nuts, Lenny 3206, Australia.
2) Golden Gut
Gut health has become somewhat of a buzzword in the breakfast scene, especially amongst healthy eateries catering to that audience. But foods that promote gut health don't have to be boring. It just takes a few simple swaps, like using whole-grain flours for pancakes, kefir yoghurt, and plenty of fruits and grains.
Inspiration: Coconut chia with strawberry gum syrup, Higher Ground, Australia. Pancakes with rhubarb, orange cream, and cardamom granola, 26 grains, London.
3) Meat-free
With the movement towards more people eating a plant-based diet, comes more plant-based options! Mushrooms are a great meaty alternative, and tofu is whipped and scrambled for an egg alternative in many vegan dishes.
Inspiration: Vegan scrambled tofu, grilled broccolini, roast pumpkin & cherry tomato chipotle salsa crispy tofu skin, Hardware Societe, France. Mushroom French Toast, Legacy, Australia.
Breakfast at Home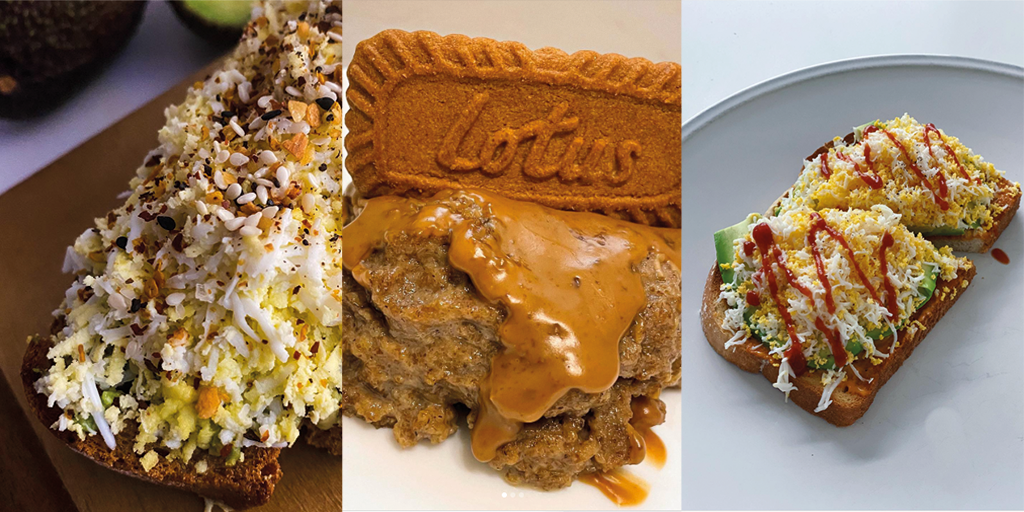 A study by Lakeland found that cereal, toast and porridge still form the staple breakfast diet in the UK. However, plenty of innovations from social media influence our at-home breakfasts, from egg sandwiches to baked oats. Often these 'hacks' are designed to be quick, easy, healthy and indulgent all in one and may be worth considering for your eatery.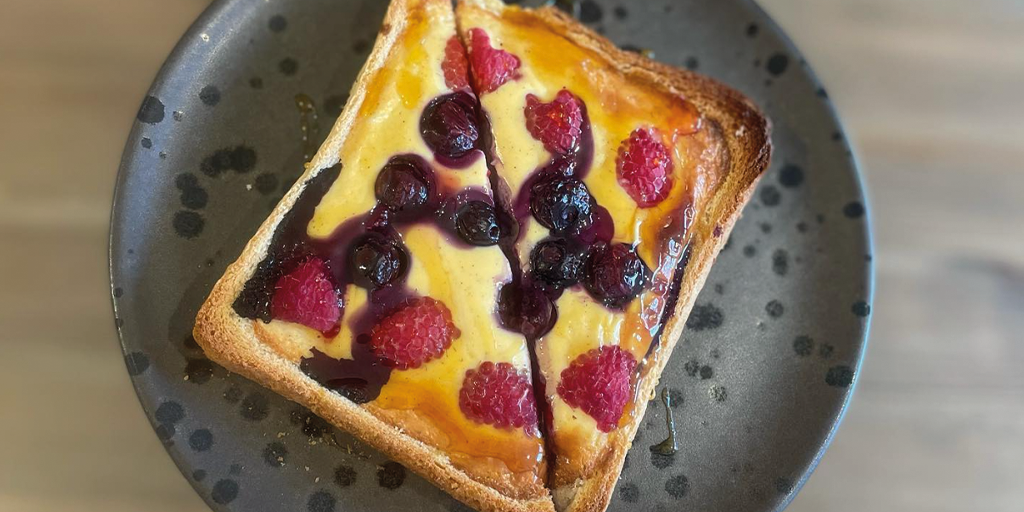 1) Yoghurt Toast
A healthier take on French toast, Yoghurt toast is made by combining yoghurt, egg and maple syrup. It's then added to bread, topped with your favourite toppings and baked in the air fryer or oven.
Inspiration: Custard Yoghurt Toast with berries, @motherfoodie. Yoghurt custard toast with berries and chocolate, @rice_over_everything.
2) Grated Egg Toast
If you've never seen it, you need to take a quick look at TikTok. Originally posted by content creator @healthyishfoods, the dish comprises a finely grated hard-boiled egg on top of an avocado sriracha combo on toast.
Inspiration: Grated avo egg toast, @avocado_tails. Grated egg toast with kewpie mayo, avocado and sriracha, @cfooood.
3) Overnight Weetabix
A nostalgic breakfast if there ever was one: Overnight 'bix. Simply put, these are Weetabix, soaked in your choice of milk overnight and topped with an array of yoghurt, berries, peanut butter, and more. Serve these in jars for a slightly fancier look!
Inspiration: Biscoff overnight Weetabix with protein powder, cinnamon almond milk and Biscoff spread, @fit_foodie_jade. Greek yoghurt tiramisu overnight Weetabix, @eat.for.abs.
On Supermarket Shelves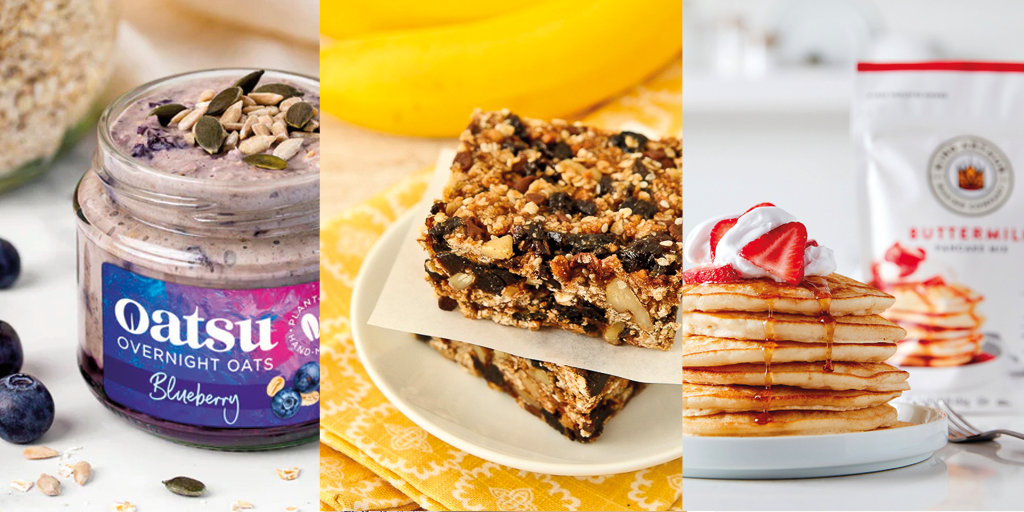 Beyond viral social media trends, several new ingredients have been hitting the shelves and making their way into our breakfast occasion. Many are convenient and easy solutions, and others are aimed at children, with recipes containing lower fat, sugar and salt – in line with HFSS rules.
1) Low Sugar
Of all the breakfast items, cereal is one of the most under-fire products regarding sugar. This has resulted in many brands having to reformulate their recipes and many new companies creating cereals in-line with regulations, using sweeteners such as date powder and monk fruit extract instead of sucrose, and adding vegetables to boost fibre.
Inspiration: Surreal: Non-HFSS cereal, contains no sugar and comes in peanut butter, cinnamon and frosted flavours. Kashi Foods: Maple Waffle Crip is made with whole grains, maple syrup and chickpeas.
2) Keto/Grain-Free
Grain-free, high protein and low carb breakfasts are another mainstay. But rather than simply eating eggs and spinach, brands have been formulating breakfast foods that tick all these boxes and are gluten-free.
Inspiration: Base Culture keto baked breakfast squares in Apple Spice, and Fruit & Nut. Incredi-bowl cereal, in three flavours: Chocolate Crunch, Frosted Flakes and Nut Hoops.
3) Freezer-Friendly

Breakfast solutions with a long sell-by date (because they're frozen), are waste-free and available anytime you want them. While these are aimed at-home customers, they're great for cafes, care homes and schools, who are mindful of waste – especially on days when they maybe aren't so busy.
Inspiration: Frozen chopped avocado, Pack'd. Frozen plant-based waffles, Griddle. Frozen French toast brioche slices, Belgian Boys.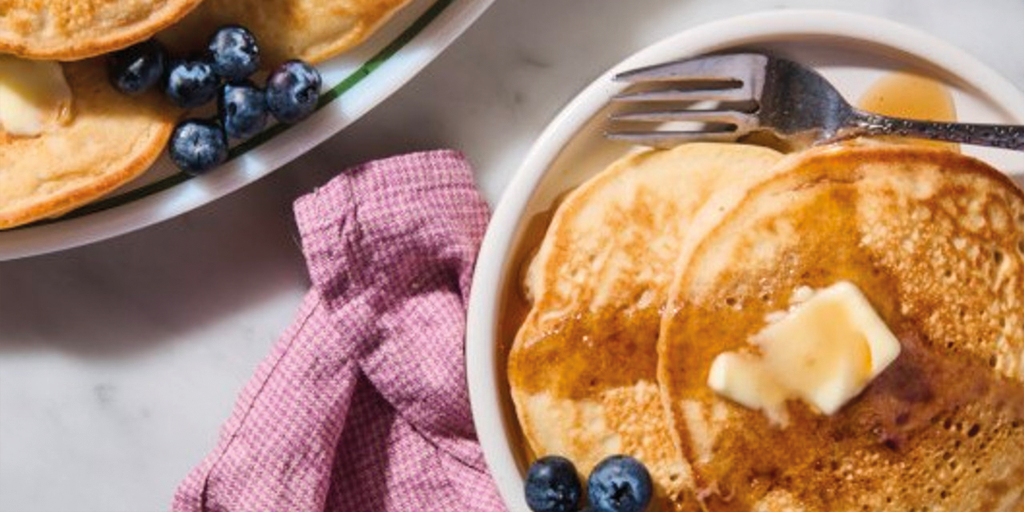 4) Pancake Mixes
Save time with these pancake mixes. While there's something very satisfying about serving fresh pancakes from scratch, if you don't have time to make a vegan or gluten-free alternative, these mixes are a great idea…
Inspiration: Planted-based pancake mix made with whole wheat in original, banana, chocolate, and apple & cinnamon, Otherworld. Gluten-free pancake mixes with organic masa harina, King Arthur Baking Co.
5) Breakfast Snacks
Some people just can't do breakfast, and that's Ok. But come mid-morning, they need a snack to keep them going until lunch. Well, we have an answer. They range from sweet treats like Pop Tart Bites to healthier alternatives made using grains, nuts and seeds. You could serve the healthier style bites in small packs to children during small breaks or at cafes.
Inspiration: Granola butter-filled dark chocolate bites, Jojo's. Clusters made with coconut sugar, chicory root, fibre and flax seeds, Handfuel.
6) Overnight Oats, Now!
Overnight oats are still a popular breakfast choice, but not everyone is organised enough – or has enough time to make their own. Yet, they still want to grab a nutritious overnight oat pot on their way to the office. Some brands make their own, but you could easily make these yourself and fill your cafe or school fridges with them.
Inspiration: Plant-based oats made with dairy-free yoghurt in mixed berry, banana/cinnamon, dark chocolate, and vanilla. Cocojune. Overnight oats mini pots, Oatsu.
7) Limited Edition
No matter what product it is, the "limited edition" will always catch people's attention – that goes for specials on menus and limited edition cakes and bakes too! Here are some of the most popular limited-edition cereals trending at the moment.
Inspiration: Ltd edition chocolate orange Coco Pops, Kelloggs. Ltd edition Sugar Cookie Toast Crunch, General Mills.
8) Seasonal Offerings
Seasonal offerings and occasions are a great way to introduce limited-edition offerings to customers. These seasonal offerings are in the form of cereals, but it may bring some inspiration…
Inspiration: Hot Cross Bun Wheats, Kellogg's. Mince Pie flavour Wheats, Kellogg's.
9) Breakfast or snack?

As we have seen with limited edition and seasonal offerings, there are many crossovers when it comes to breakfast. Think cereals designed to taste like your favourite chocolate bar, and cakes with a cereal twist. People have been making chocolate-covered cornflake cakes for years, and they're still a hit in schools, bakeries and cafes. You can apply the same idea to many cereals, topping cupcakes with lucky charms, chocolate clusters, and chocolate shreddies etc.
Inspiration: Reese's Puffs Cluster Crunch, General Mills. Snickerdoodle Pop Tarts, Kellogg's. Lucky Charms cake mix, Betty Crocker.
10) Spreads
Last but not least, spreads! There's no denying how popular chocolate spread and peanut butter are – a great breakfast or snack, whether enjoyed on toast, pancakes, porridge, or with some fruit. Over the last few years, we have seen an increase in luxury spreads, with different types of chocolate, nuts and seeds, and some kids' focus innovation – usually low sugar and salt.
Spreads like this are great to have available with your breakfast offering, whether just as an accompaniment to toast, or served as a topper – or even in a milkshake! Think about Biscoff and how popular that has become as a breakfast offering – it goes with just about everything.
Inspiration: Pumpkin spice pecan butter, Abby's. Luxury chocolate hazelnut creme, M&S. Pip'n'Nut Sweet & Salty Peanut Butter.
Breakfast is one of the biggest occasions when it comes to food service, full of different dishes and snacks to suit everyone's taste – from indulgent to healthy, fibre-rich to vegan. So, if you haven't updated your breakfast offering for a while, maybe it's time to re-think it? Depending on the type of establishment you run, it could be introducing more innovative flavours, adding some limited edition dishes or products, creating more healthy, fibre-rich options for customers, or adding some easy takeaway options for people on the go. The options are endless when it comes to breakfast…