When you walk into a food shop, be it a supermarket or newsagents, at the entrance or by the till they always place sweet treats to capture your attention… and they almost always do, especially if it's a good offer. It's a technique you don't see often in restaurants, bars and cafes, but there's no reason it shouldn't be.

If this isn't already something you do, Christmas could be the time to start. You'll often see beautifully packaged homemade chocolates, biscuits and cakes in places like farm shops. They always look so appealing, the perfect gift, whether you're popping to see family or friends, need something for a last minute secret santa… or just want something to enjoy with your afternoon coffee.

This festive season, why not introduce something similar at your business. It not only adds a personal touch, which people will remember, it's another way to make some extra pocket money – it all adds up. What you sell doesn't have to be patiserie quality sweet treats, edible gifts like truffles, ginger biscuits, meringues and caramelised nuts are just the type of thing people like to buy.

What's really important though, is the packaging. Sustainability is key, so make sure you use as little plastic as possible – or none. You can get some lovely paper bags these days, and even plastic-free ones. Dress them with something sparkly and pop them on a table at the entrance, decorated with a red or dark green table cloth, maybe some fairy lights, pine cones or tinsel. If you have space by the till, especially if you own a cafe, they're perfectly placed here, in an eye-catching spot.

CHOCOLATE TRUFFLES
Ingredients: Makes 50
300g high quality dark chocolate (at least 70% cocoa)
300ml double cream
50g unsalted butter
Method:
Break the chocolate and put in a heatproof bowl.
In a saucepan, add the cream and butter, and heat gently until the butter melts and the cream is simmering – not boiling.
Remove from heat, then pour over the chocolate. Stir the chocolate and cream together until you have a smooth mixture.
If you wanted to add some additional flavour to your truffles, this is the time to add it – whiskey, rum, orange zest etc.
Cool and chill for at least 4 hrs.
To get a good truffle shape, use a melon baller, or alternatively use your hands to create balls by rubbing the chocolate between your palms (use a flavourless oil on your hands to stop it sticking).
Place the balls on greaseproof paper.
After shaping, coat your truffles. Something like: coconut, raw cocoa, roasted nuts, freeze-dried raspberries etc. Or simply drizzle with chocolate.
Bag up your truffles (8-10 per portion) – they should be eaten within a week.
If you want to bulk make these truffles, they'll keep in the freezer for up to a month.
CHRISTMAS COOKIES
Ingredients: Makes 40
100g sugar
120g of golden syrup
50ml milk
65g butter
1.5 tsp ground ginger
½ tsp allspice
1tsp bicarbonate of soda
250g plain flour
Pinch of salt
Method:
In a pan, melt together the butter with the mlik, golden syrup and sugar, then set aside to cool to room temperature.
Sieve the flour and mix with the spices and bicarb of soda on a clean surface.
Make a well in the middle of the flour then pour in the wet ingredients.
Mix together to form a dough then wrap in cling film and rest in the fridge for 2 hours.
Preheat the oven to 180 degrees
Once rested, remove the dough from the fridge and roll out on a lightly floured surface, to a thickness of roughly 4mm.
Using a cutter (star, circle, christmas tree etc.), cut out your cookies then transfer to a lined baking tray.
Bake for 5-6 minutes.
Leave to cool – decorate as desired.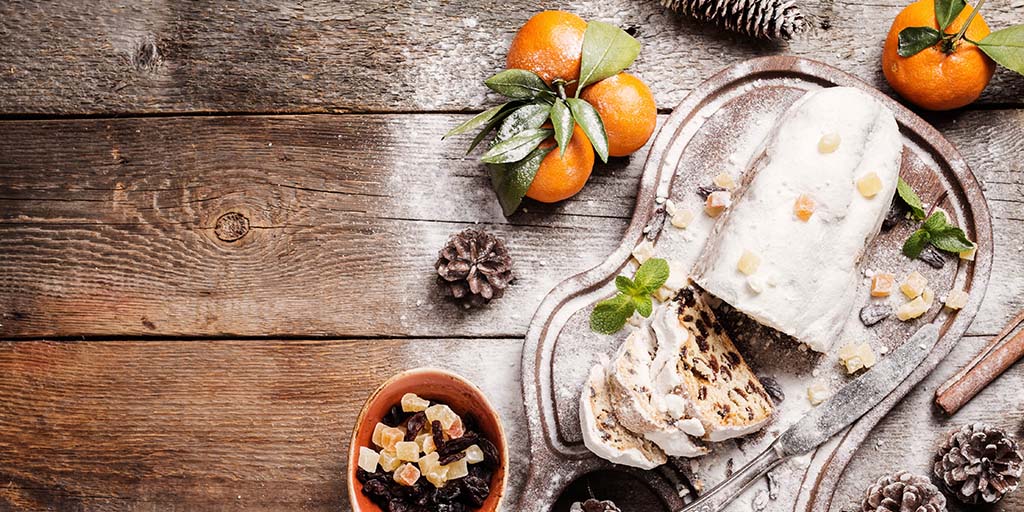 MINI STOLLEN

Ingredients: Makes 25
75 g mixed dried fruit
25 g mixed peel
25 g dried cherries (unsweetened if possible)
2 1/2 tbsp spiced rum
75 ml milk
75 g butter
Zest of 1 orange
1 tsp fast-action yeast
225 g strong white bread flour, plus extra for dusting
1 tbsp caster sugar
½ tsp ground cinnamon
½ tsp mixed spice
2 green cardamon pods, seeds removed and crushed
1 medium egg, plus 1 yolk, lightly beaten
Sunflower oil or similar (for greasing)
1 tsp icing sugar, plus extra for dusting
200 g marzipan
Method:
Mix the dried fruit, peel and cherries with 1 tbsp rum – set aside for at least 2hr.
In a small pan, gently heat the milk, 50g of the butter and orange zest until melted.
Remove from heat and set aside to cool slightly for a few minutes – test with a finger to check it's lukewarm, then stir through the yeast.
Tip the flour, sugar, spices (including the cardamom), and a pinch of salt into a large bowl and combine.
Add the milk, butter and orange mixture, egg and yolk over the dry mix and stir until a slightly sticky dough has formed.
Tip on to a lightly floured surface and knead for roughly 10 minutes.
Transfer dough to a lightly oiled bowl, cover with cling film or a wet tea towel and set aside in a warm place for 1-2hr, until almost doubled in size.
Meanwhile, sift 1tsp icing sugar over a clean surface and roll the marzipan into a 20.5cm/8in square.
Tip the now risen dough onto a lightly floured surface, spoon over the drained, soaked fruits and knead until well combined and fruits are distributed evenly through the dough.
Divide in half. Roll each piece out to a rough 20.5cm square and put one into a 20.5cm (8inch) square tin, lined with greaseproof paper.
Top with marzipan and then the second piece of dough.
Set aside in a warm place to prove for 20-30min, until almost doubled in size – meanwhile, preheat the oven to 180°C.
Bake for 25min until golden and risen, cool in tin on a wire rack for 15min, then remove from tin to cool completely.
Trim edges and cut into 25 squares.
Gently melt remaining rum and butter, and brush a little on each square, then toss in icing sugar.
Your mini Stollen bites are now ready to be portioned into bags / boxes.
WHITE CHOCOLATE AND RASPBERRY MACAROONS
Ingredients: Makes 30
The Shells
200g icing sugar
110g almond flour
3 large egg whites
50g granulated sugar
The Filling
56g double cream
85 grams white chocolate chips
3 tbsp freeze dried raspberries
The Topping (If you are putting these in bags, it could get messy and we'd recommend missing this step)
42 grams white chocolate
3 tbsp freeze dried raspberries
Method:
Line a tray with baking parchment (you can get a macaron silicone sheet with the circles on, which will make life much easier).
In a food processor add the icing sugar and almond flour and pulse until fully combined.
Sift the dry ingredients into a large bowl – if you don't have a food processor you can just sift the ingredients together.
In a bowl, prepare the french meringue – you can use a stand mixer for this but for a small amount like 30 – a hand mixer is just as good.
Beat the egg whites on low speed until they become frothy.
Increase the speed and slowly add the sugar – if you add the sugar too fast you will deflate the meringue. Beat until stiff peaks form.
If you want to add food coloring, do it now… sparingly.
Add the meringue into the dry ingredients and begin to gently fold with a silicone spatula – this process is called macaronage.
You will know the batter is ready – you should be able to hold the spatula above the bowl and draw a figure 8 smoothly without the batter breaking off.
Transfer the batter to a piping bag fitted with a piping tip.
Pipe 1-inch disks onto the prepared baking tray.
Firmly tap the baking tray sheet onto the counter 3 or 4 times to bring any air bubbles to the surface. Use a toothpick to pop any remaining air bubbles.
Let the macarons rest for an hour, so that a dry layer forms on the top.
Preheat the oven to 130 degrees celsius.
Place the macarons on the middle rack of the oven and bake for 5 minutes, then rotate the tray, bake for another 5 minutes and then rotate one more time, baking for a final 5 minutes – 15 minutes in total. The macarons should not have any color to them.
Remove from the oven and allow to cool completely.
Now remove each macaron shell off of the mat.
To make filling, heat the double cream in a pan, over low heat until lightly simmering.
Remove the pan from heat and add the white chocolate chips – stir lightly to combine.
If your freeze dried raspberries are whole, grind them in a food processor to a powder.
Add 3 tbsp to the chocolate and cream mixture.
Next, use a whisk to slowly stir the mixture together until everything is melted and fully incorporated – try not to add in too much air.
Transfer the ganache to a small bowl and cover the surface with plastic wrap.
Place in the fridge and allow to cool thoroughly and thicken up.
To assemble your Macarons, transfer the ganache to a piping bag.
Pipe your desired amount of ganache onto the inside of one macaron shell and sandwich the matching macaron shell on top. Repeat with all 15.
If you wish to decorate the outside, do so with the remaining chocolate by melting it and putting a drizzle over each macaron, then topping with further freeze dried raspberry powder.
MINI MERINGUES
Ingredients: Makes 12
2 egg whites
100g caster sugar
1 tsp vanilla extract
Method:
Preheat the oven to 150 degrees and line a baking tray with baking paper.
In a large bowl, beat the egg whites until stiff.
Gradually beat in sugar until mixture is smooth.
Delicately stir in the vanilla.
Pipe or spoon small portions onto a tray (12) and then bake for 35 minutes.
Leaving the meringues inside the oven, turn it off – do not remove the ovens until the oven has completely cooked.
Decorate as you wish – brush with freeze-dried raspberries, drizzle some white chocolate over the top, or add a touch of edible glitter.
For more ideas on edible Christmas gifts or packaging inspiration, take a look on Pinterest.