With summer comes the perfect time to start thinking about how to make the most of the warmer, longer days and drive more revenue for your business. Whether you have a cafe, pub, restaurant or hotel, there are many ways in which you can entice customers to join you, from hosting events to special summer deals, upgrading your outdoor space, and much more.
Develop a good strategy
Summer is often the peak season for restaurant industry revenue; if you want to make the most money possible, you need to know what strategies work in your area. Summertime is when people are more likely to dine out, so it's essential to ensure your restaurant is visible and appealing.Promotions and discounts can attract new customers, but restaurant owners should also focus on maintaining quality and service levels. In addition, it's essential to be aware of the competition and what they're doing to attract diners. Knowing what to expect and using the right strategies can ensure that your restaurant is successful during the summer months.
You will then need to think of a marketing strategy to get the word out. How are you going to publicise your activities and keep your venue top-of-mind when customers are thinking about dining out.
Pricing for success
When it comes to business, all sorts of strategies and plans can help you boost restaurant revenue. Sometimes, however, the most straightforward approach is the best one.
Take, for example, the case of a summertime business such as a restaurant in a tourist area. During the summer months, your regular customers will likely be gone, so you can raise your prices without worrying about losing them as clients.
And since there are usually more people in town during the summer, you're likely to have no trouble filling your restaurant even at higher rates. Of course, it's always important to exercise caution, you don't want to lose customers by going too too far with price increases – but a modest uptick can boost revenue.
So if you're looking to boost your bottom line this summer, don't be afraid to think outside the box – and consider making a simple change that could have a significant impact.
Offer Seasonal drinks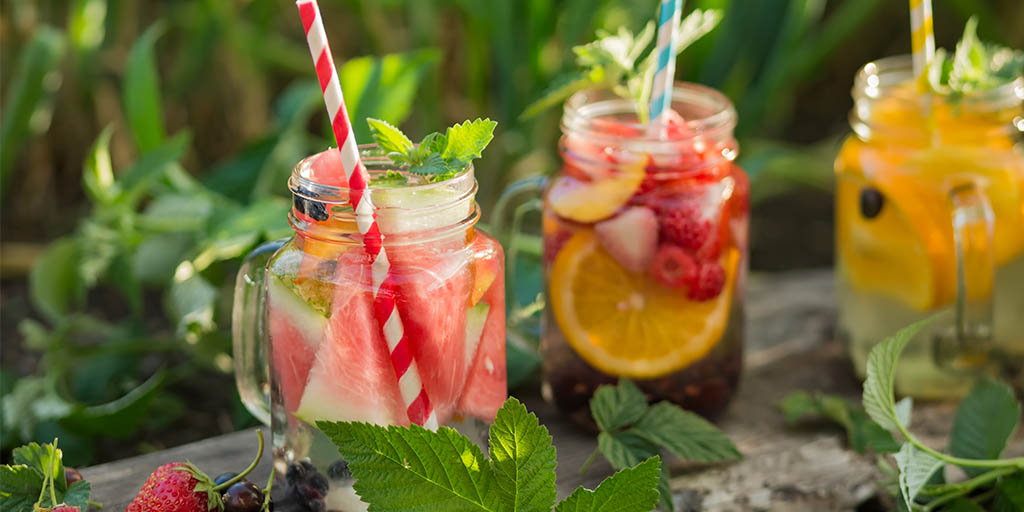 Summertime is the perfect opportunity for restaurants to boost their revenue by offering creative and refreshing beverage options. With the warm weather, customers are looking for ways to cool down, and they're often willing to pay a premium for a delicious and refreshing drink.
To attract customers, restauranteurs should consider offering a variety of summertime beverages, such as iced coffee, cold brew, iced tea, lemonade, and fruit-infused water. By providing a selection of summer-friendly drinks, restaurants can make the most of the hot weather and boost their bottom line.
Sell compelemtary items
Upselling is a common practice in the restaurant industry, and for a good reason. Offering guests the opportunity to purchase additional items can increase your revenue and improve the guest's experience. For example, if you're selling coffee, you could offer guests the chance to buy a bag of beans to take home.
Or, if you're selling ice cream, you could provide toppings with or a waffle cone. By offering complementary items, you can make it easy for guests to create their orders and end up satisfied customers.
Invest in a table reservation system
A reservation system helps businesses optimise restaurant seating layouts to accommodate more customers and give guests more accurate wait times. By inputting customer data, companies can better understand how many people to expect at certain times.
They can then adjust the seating layout to use the available space better. If the wait becomes longer than anticipated, the host can adjust expectations and offer a complimentary snack or beverage. This helps ensure that customers have a positive experience and are likely to return in the future. In addition, it allows businesses to maximise their profits by ensuring that all of their seats are filled.
Focus on existing customers
As a restaurant owner, it's essential to consider all your options when generating income. In addition to attracting new guests, you should also focus on keeping your current guests and regular customers happy. One way to do this is by offering incentives and memorable experiences they can't find at other restaurants. For example, you could give your VIPs early access to new summer cocktails and happy hour events. This will not only make them feel valued, but it will also encourage them to keep coming back to your restaurant.
Additionally, you should ensure that your staff is giving these guests the best possible experience. By utilising a reservation system that understands diners, you can ensure that your team can provide the high level of care that these guests deserve. By taking these steps, you can generate summer revenue while keeping your loyal customers happy.
Freshen up your menu
The best eateries switch up their menu seasonally and make the most of British produce. During summer, we're lucky to have an abundance of fresh fruit and veg, which will add colour to your menu. Think asparagus, tomatoes, rhubarb, baby potatoes, courgettes, cucumber, green beans, berries, plums and peaches.
Make your menu fresh and vibrant, and why not run a daily or weekly special so that regular customers can try something different each time? Remember to always put a copy of your menu on your website, too, as what's on offer is incredibly influential on a customer's decision to visit – and if they can't see it, they may not risk it…
Summer is perfect for showing off your culinary skills with some colourful and tantalising fruit dishes. Strawberries, peaches, and other summer fruits are the ideal base for various desserts and salads. To bring out the flavour of the fruit, try macerating them with sugar, lemon juice, honey, and balsam. This mixture is delicious spooned over shortcake sponge cake or angel food cake.
For something extra special, arrange the fruit in a colourful design and drizzle syrup over the top. This dish is sure to impress your guests! For those who prefer a dairy-free option, try making a simple sherbet or ice cream. You're sure to find the perfect summer treat with so many delicious possibilities!
Make the most of the sunshine
If you're lucky enough to have an outdoor dining space, make the most of it and turn it into an inviting area – we've recently written a piece on how to do this. If you don't have an outdoor dining area, then focus on how you can bring the outside in: Place a few tall plants around the room and add fresh flowers to tables. If you have a theme, why not mix it up for summer and change your tablecloth and napkin colours to yellow, vibrant green or pastel blue.
Gin Fridays (or any day!)
It's safe to say the world has had an actual 'ginaissance' in the last ten years, and what better way for venues to capitalise on this than to set up your gin offering.
There are so many to try; you can play to this by designating one day of the week during summer to a different gin each week. Do your research about the gin you've chosen, so you can perfect the serve – what's the best mixer and garnish?
Once word passes on that you're offering guests the chance to try different gin serves for a special price each week, customers will start running through the door.
Summer Fridays
As the summer heats up, many businesses begin to offer their employees "Summer Fridays." This is an excellent opportunity for restaurants to get people through their doors earlier for a Friday afternoon or evening out. Some ways to take advantage of this opportunity are by offering a special happy hour starting at 2 pm or providing guests with their first drink free.
Your bar can even offer a signature summer cocktail list or seasonal appetisers at a discount on Fridays. So seize this chance to bring in some extra business and create great summer memories for your guests!
Pro Tip: Restaurants can offer local-area companies 10% off their bill on specific days or times. This is a great way to create loyal customers while showing your support for businesses in your area.
Outdoor cooking
Whether it's a BBQ, an open fire or a pizza oven, outdoor cooking is really starting to make its way to the UK. While the cooking technique is relatively simple, the atmosphere outdoor cooking creates is hard to match – not to mention the flavour.
Even if you don't have the space to host a BBQ in the garden but have a little area for the chef to cook, it's still worth offering a 'from the fire' evening.
Team up with local businesses
Partnering with local businesses will allow you to reach a new customer base or give old customers a new reason to visit your establishment. It could be a local brewery for a tasting evening, cooking class, flower arranging class, mixology class – find a business that matches your ethos.
Host events
If you have a large outdoor space, now's the time to make the most of it. You could host a gin or beer festival, setting up outside bars and outside catering areas – get that BBQ fired up. Music's also good; host live music or have an open mic night. Whatever you do, be sure to make some noise about it, whether that's on social media, on your website in your restaurant, through advertising or in your newsletters.
Promote romantic dinners
During the summer months, restaurants have many opportunities to attract customers with romantic candlelight dinners. You can create a complete package encompassing desserts and beverages as well as flowers or chocolate that will make your evening even more special with something unexpected!
Run summer specials
People love getting a good deal, so take advantage of this by running summer specials. This could be anything from kids' eat free nights to a percentage off the bill. You can also promote happy hour specials to appeal to the after-work crowd.
Tie in with local events
Make the most of any local events happening in your area. If a big summer festival or carnival is going on, could you host a pre or after-party? How about tieing in with national food holidays and sporting events. You could also offer discounts to customers who show their wristbands from the event. This is a great way to show that you're part of the community and entice locals through your doors.
Use social media
Summer is the perfect time to experiment with fun and festive drinks and nibbles, there's no better place to showcase your creations than on your social media pages.
Get creative and colourful with and post mouth-watering pictures of your concoctions. This will whet people's appetites and have them clamouring to come and try your drinks for themselves!
Summer decor
Give your restaurant the summer look. A few small decor changes can make a big difference, and help to create a refreshing and inviting atmosphere for your customers.
If you have an outdoor dining area, take advantage of the warmer weather by adding some new plants, flowers, and umbrellas. If you don't have an outdoor space, don't worry – there are plenty of other ways to give your restaurant a summery makeover.
Consider ordering some new tablecloths or investing in a colourful tabletop sign to advertise your new summer beverages. A little bit of effort can go a long way in making your restaurant the go-to spot for summer dining. And don't forget to share your updated look on social media – a few well-placed photos can help attract new customers and boost business.
Summer is the perfect time to get creative and boost your restaurant revenue. By offering specials and events and partnering with other businesses, you'll surely bring in some extra business. So make the most of the warmer months and enjoy increased profits!